Digits 3 for iOS
August 8, 2018
Finally, Digits 3 has been released!
Digits Tape Calculator by Shift version 3 is out and a free upgrade to anyone that purchased version 2. I was a bit late to the Digits party as I found it right before iOS 11 locked out apps for not being 64 bit compatible. I had really started to enjoy the app about the time it was ripped from my workflow when I upgraded to iOS 11. I watched the Shift website for updates about the new version but had to try and go back to previous calculators in the interim. It was really during this time I became painfully aware what what I had grown to love in a short amount of time about Digits and what other apps clearly lacked.
Digits floats a line between simple calculator and light-weight spreadsheet. There are a lot of times throughout a day or week where I have a set of simple calculations that I want to save but don't want to have to launch the pig that is Excel or slightly-less-piggish Google Sheet or Pages etc etc. I just want an easy record of the numbers and to remember what the heck they were. Back in the day the tape calculator's paper did the trick as you ripped it off and started making notes on it about the numbers. Then you would put it in a file folder and hope you didn't have to actually find it again or maybe your would tape it to your monitor or desk. Take that simple process and you have what Digits does in spades plus a bit more thanks to the digital age and being an app.
Review
From the description 'Digits 3 is a top-to-bottom rewrite made for the latest iOS and devices." They added Split View support and Slide Over works too which is very helpful and a must have feature for utility apps in my book.
The UI is super clean and simple. There are some basic math functions if you swipe left in the "display bar" area, but this isn't some replacement for your TI-84. The numbers are nice and big so they are easy to hit and if you have an if you have an external keyboard you can use it to enter numbers and operators as well. You can change the colors in the Settings if you don't like the default Yellow and Black.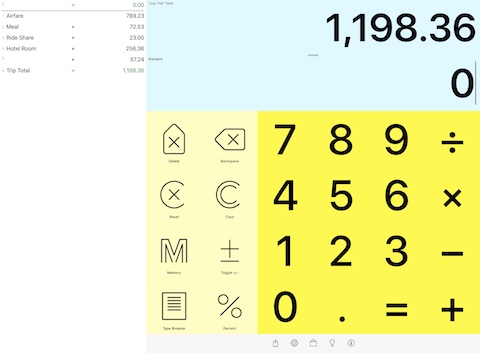 Starting entering some numbers and doing some calculations to get your "tape" going. In my screenshot above you can see I have a tape that I have edited most of the lines already including the total.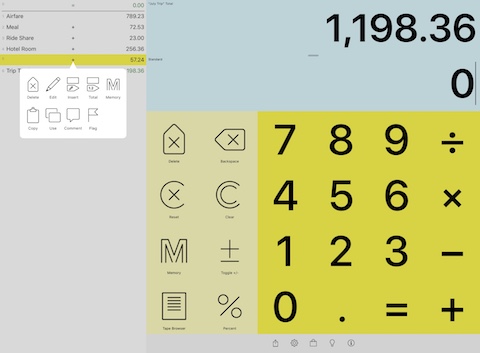 Tap one of your rows and the pop-up menu is where a lot of the power of Digits hides. Here you can delete a row, insert a row or total below the selected row, put the value in memory, copy the value to the clipboard, use the value as your next calculation value, add a comment and flag. The comment is like using your pencil on the old calculator tape. It allows you to document your numbers in a very simple way so they can make sense six months from now or help you find a value in a search (more on this later).
The other button that deserves a bit more attention is the one that looks like a sheet of paper which is the tape manager. It pops up a window that lets you make a new tape or rename, duplicate or trash an existing tape.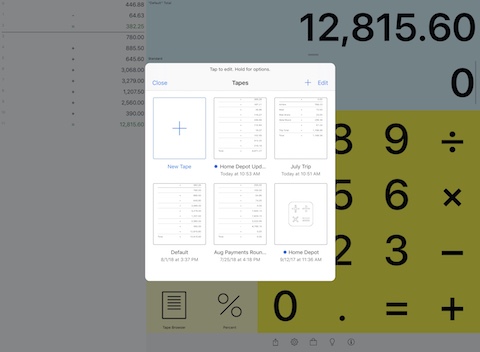 If you had Digits 2 a nice feature is that they have been preserved and if you click on them you can have them upgraded to the new format so you can use them again. I thought that was a very nice feature add that really a lot of devs would have not have done. A pop-up asks if you want to convert it or cancel. Being able to have multiple saved "tapes" is a powerful feature of Digits that allows it to be very flexible without a lot of fuss.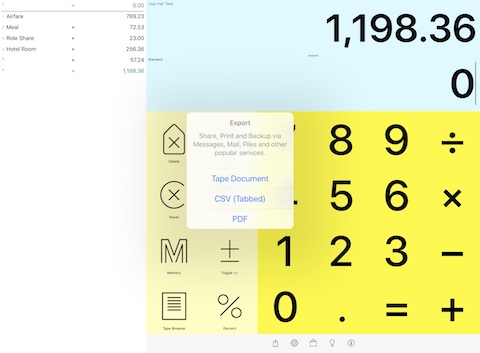 You can share your tape via the share sheet icon at the bottom as a PDF. Additionally, if you enable the Pro features you can also select a Digits tape file format or tabbed CSV format. The CSV is a nice addition as you use that format to send the data to a workflow or another app. I don't like 30 tapes in the browser so I use the PDF format to archive a tapes in Evernote. With the Pro features, I might attach a Digits tape file to the archive as well now so I could re-open the tape later if needed.
Wrap it up…
Version 3 is a very welcome successor and upgrade from version 2 and cements the Digits app back in my workflow. I don't think a ton more needs to be put into Digits as it does most everything the previous version did and added some nice new features. I would like to see a left-handed mode where you can flip the keypad to be on the left side of the screen in both landscape and portrait views. A Today Widget and iCloud save for tapes I think would nice additions as well. Whatever the next releases bring I am just happy to have my tape calculator back and highly recommend you take a look at.